Hey marshmallows! AGW has been tagged a couple times recently, and I had some unposted photos I wanted to share, so I thought this would be the perfect opportunity to make this post!
I'm so sorry that it looks like I haven't posted in a while! I've actually been working on this post the whole time, and this took a really long time to make!
Our first tag isn't exactly a tag, but an award! Autumn @ Hobbies of all Seasons created a Hobby Award, and she will pick a winner that answered the set of questions best! The deadline has already passed, but I thought it would be fun to do this anyways. Let's go!
What is your favorite Hobby?
I have a ton of hobbies – skateboarding, ballet, photography – but I think my most favorite out of all of them is writing! I love writing stories because I can make anything happen. Words can change the world!
How did it become your Hobby?
I've always loved English and stories. I can't really remember what got me really into writing, but I think it was when I fell in love with reading and started this blog at nine years old! Through the blogging community I discovered NaNoWriMo YWP, so for camp, I wrote my first ever 'novel'. (It was only a 15k chunk of nonsense and weird prose, but I was still really proud of it!) Just recently I've become a lot more serious about writing as a career path, and I'm planning to submit my WIP to some publishers when I finish it! I also joined an awesome writing program, The Young Writer's Workshop!
What's your friends' favorite Hobby?
A lot of my friends play volleyball, some of them are really into art and outdoorsy stuff, others like basketball, and some are swimmers!
Do you have any other hobbies that you like?
Tons! I love ballet, contemporary, and dance in general, photography, skateboarding (just got my first board last week!), coding, art, fashion design, basketball, rollerskating, dogs, reading, and more!
Do you have a favorite sport?
In my opinion, dance is a sport because it so physically demanding and difficult, and can be competitive! If dance doesn't count (which it should) then I'd have to pick basketball – I love playing and watching it, and even though this year my league didn't have girls' teams (GRRRR!!!! You do NOT want to get me started ranting on that) I still like to drill with my sister and root for the Spurs!
Would you recommend it for other people?
Definitely! Dance is so fun and creative, and you can really express yourself, build strength, and perform. Basketball is a really great team sport that will help you get a lot of skills and teamwork!

Do you have a favorite blog about hobbies?
I don't really know very many hobby blogs except Autumn's! Her posts are so fun!
Thanks for hosting this award, Autumn! I had so much fun answering the questions!
The next tag is the Alphabet Post Challenge! Thank you for tagging me, Laura!
WARNING: Lots of fangirling! May make no sense if you've never read the books I'm talking about. YOU HAVE BEEN WARNED.
-Guidelines-
Acknowledge the blogger that challenged you.
Display the challenge photo or create your own.
Link back to this post so I can read yours.
Create one post or multiple posts, using a word that starts with each letter of the alphabet and share your thoughts on the word you chose and how it can be applied to our lives.
Be creative and have fun!
Nominate 5 -7 bloggers to participate.
I'm going to be bending the rules a bit and doing my favorite books that the main word in their titles starts with each letter!
A: The Audition by Mackenzie Ziegler is one of my favorite books, and it's by one of my favorite celebrities/authors! It follows the story of a dancer adjusting to a new competition team, and I just love all the charries and how fantastic this book is in general!
B: The Bible! The Bible is the Ultimate Book – it is so useful and a gift from God. I read it twice a day. Every verse means something so powerful and impactful, and I love discovering hidden meanings or coming across interesting passages. Reading the Bible is one of the best parts of my day. It's the most life-changing book in the world! Click here to have your life changed too!
C: The Clique by Lisi Harrison is a great series, and I especially like the first book! The only bad thing about this is as the series goes on, some of the later books get a little inappropriate. I would stick with the first three and then skip to Dial L for Loser.
D: Dear Dumb Diary by Jim Benton is absolutely hilarious! I can't read these books without laughing out loud. The life of the main character, Jamie Kelly, is so hilarious and well-written!
E: Invisible Emmie by Terri Libenson is an awesome book, and here's a few reasons why: 1. It's HILARIOUS! 2. It's really well-done and the kind of book you would re-read over and over again. 3. The main character is named EMMIE. 'Nuff said.
F: I Funny by James Patterson is a hilarious read! The first book is really, really, good, and so is the next. But as the series goes the plots get really repetitive, predictable, and unnecessary, but that's the one negative about this series. The first two books are fantastic, I totally recommend!
G: I really love the book Ghosts by Raina Telgemier, and it's not an unclean horror book. It's a really fun and awesome graphic novel about the Mexican holiday Day of the Dead.
H: How to Rock Braces and Glasses by Meg Haston is a hilarious and awesome read that I totally recommend! It's super funny and relaxing to read through, and the characters seem super real.
I: Positively Izzy is the sequel to Invisible Emmie, so it's automatically AWESOME! What makes it even more awesome is that BRIII!!!!! AND SURPRISE ENDING!!!!!! AND ALL THE SKETCHING AND THE UNKNOWN CRUSHES AHHHH
J: Jacky Ha-Ha: My Life is a Joke by James Patterson is a really great book, and it's one of my favorites ever! Jacky's character arc is FLAWLESS, and I love the story and the illustrations are spectacular!
K: Kisses from Katie by Katie Davis is a life-changing account of her missionary work in Uganda. It's such a moving and touching story that really made me think about the world, and how we need to do a better job of fighting poverty.
L: The Miscalculations of Lightning Girl by Stacey McAnulty is one of my favorite books ever, I cannot tell you how many times I've read this awesome story! Even though I hate math, it's such an enjoyable read and CUTIE PI IS THE BEST FICTIONAL PUPPY EVER!
M: The Maddie Diaries by Maddie Ziegler is an awesome book that is so inspiring and spectacular! Reading this book makes me want to dance. I love how Maddie shares some of her own experiences, fun lists and things to do, advice, and photos!
N: Nicki by Anne Howard Creel is a really fun and heartwarming read!
O: So there is like no book that starts with O…but after shelf-searching I found =
P: Princess Academy Series by Shannon Hale! I can't remember if I ever read the first book, actually, but I just finished rereading the second book and I recently finished the third, and I forgot how much I love this story! The world building is flawless, the characters are so smol and amazing and relatable and PIRI FOREVERRRRR!!! (Peder and Miri are my ultimate OTP!! Nothing shall stand in the way of this amazing ship! Not even Timon!!) Ahem, that probably all made no sense if you've never read the books, hehe.
Q: Forfeit. I mean there's technically All the Wrong Questions by Lemony Snicket but that book was so bad I never made it past the second chapter! I really tried to read it…but it was just so bad I had to DNF it.
R: Roller Girl by Victoria Jamieson is such an awesome read, and it has the best MC ever!
S: Starfish by Akemi Dawn Bowman is an awesome book! The characters are so amazing, and Kiko's artwork is sooooo good! You can read a review I did on it a while ago here! (And like all posts from a while ago, it's super cringey. Please don't read anything else on that old writing blog, or else you will be screaming in horror at how terrible the posts are. XD)
T: The Babysitter's Club graphic novels by Raina Teglemier are my faves! The story is so awesome and well-drawn, too!
U: Unfurling by Allison Beery is my favorite poetry book! Allison's words weave together into a gorgeous poem seamlessly, and all the poems are meaningful! I love how varied the book's poems are; some tell a story, some paint an image in your mind, others share encouragement or messages. ❤ this book!
-Forfeit W, X, and Y-
Z: The Real Z by Jen Calonita is a really awesome meet book for Z, and it's a super interesting story that I imagine as a stop-motion in my head, lol!
That was fun! It took forever to write, but super fun!
I nominate…
Anyone who wants to do this tag!
I've been tagged for the Liebster award by Jo, Ani, and Diamond! Thanks, guys! Since it would be boring to do the tag 3 times, I'm going to be using my favorite questions from each tag!
Acknowledge the blog who nominated you for this award.
Answer 11 questions the blogger gave you.
Give 11 random facts about yourself.
Nominate 11 blogs.
Notify them.
Give them 11 questions to answer.
Do you have any pets? What are their names and breeds?
I have a cute little Maltese dog, Chewy! (His full name is Lord Chewington Charles Lastname The First.)
How many notebooks do you estimate you've filled up in your lifetime?
I tend to fill up a notebook halfway, then start a new one, rip out pages, etc. So I think altogether adding up all the half-filled pages, probably over 30!
Ooh, that's a hard one. Ice-cream cake? No? Okay, then probably ice cream!
Do you prefer cats or dogs?
DOGS DOGS DOGS DOGS! They're so cute, cuddly, loyal, loving, and THEY SAVE PEOPLE'S LIVES. Have you ever seen a service CAT?
If you had to move but you could pick where, where would you pick?
I'd move closer to my friends and school, not anywhere crazy because I love my home! If I couldn't be in my home state, then I might pick California!
Are you a night owl or a morning person?
Definitely a night owl, I'm a notorious insomniac and I hate waking up early!
What is the best food in the world?
Marshmallows, duh. Ooh and brownies and cheeseburgers. And cheese in general. (I'm so healthy lol)
What was your favorite TV show/movie when you were a kid?
Well, I'm 11, so I AM a kid…but when I was younger I was obsessed with Dora, Jake and the Neverland Pirates, Sophia the First, and WonderPets. (I feel so old because today 5-year-olds probably have never heard of half of these shows!)
If you were suddenly put on a stage and told to deliver a speech, what would you talk about?
Christianity, and honoring God with your talents, or maybe diabetes cause I'm an expert *flips hair* (It's kind of hard NOT to be an expert)
Do you think Wikipedia is a reliable source?
Not really, because anyone can edit it and they could put anything there.
Chow what? *Looks up chow mein on unreliable Wikipedia* Well it looks tasty…
---
Eleven facts about me:
I am about to go to a photoshoot for JDRF!
On the subject of photo shoots, I was on the cover of a magazine when I was three! (I won my city's cutest kids contest!)
I take ballet and contemporary and I'm currently training to get my pointe shoes!
I love llamas! Take a look around my room and it's not hard to tell; there are llama bookends, pots, notebooks, wall art, stuffed animals, and this llama wall thing from Target: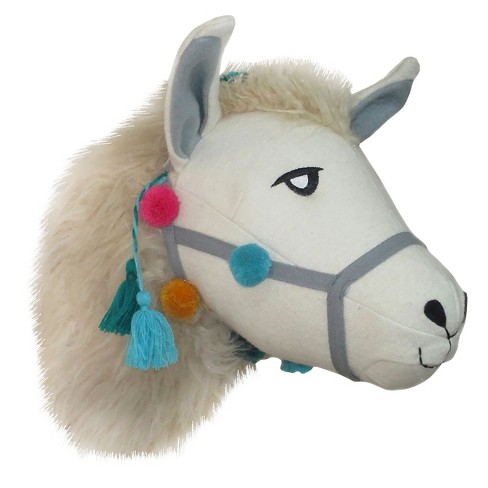 I read my Bible twice a day and I write a journal entry every day!
I have a donut-decorated skateboard, and I like skating it up and down the cul-de-sac when I'm bored!
My favorite singer is Mackenzie Ziegler, I love her album Phases!
My favorite dancer is Maddie Ziegler, I love her books!
Emmie is not my real name, but most of you know that!
I almost always remember my dreams, and they're always super weird! (For example – last night I dreamed about a volleyball game with a balloon in the woods. Whaaat?)
---
Here are the bloggers I nominate:
And here are my questions for them!
What is your favorite animal?
Have you ever flown on an airplane?
How many states have you been to?
Who is your biggest inspriation?
How do you come up with blog post ideas?
Would you rather read the book or watch the movie first?
Do you keep a diary? If so, how often do you write in it?
How many blogs have you had in your lifetime?
Best book ever, besides the Bible?
How many siblings do you have, if any?
Have you ever written a book?
Wow, this is 2367 words long! Thank you so much for reading this post, and I hope you enjoyed it! Make sure to follow this blog, check out my YouTube channel, and share this post!
Before you go, don't forget to share this post by reblogging, pinning, telling a friend, or sharing on social media and receive three free desktop and laptop wallpapers delivered straight to your inbox!

CAN'T GET ENOUGH OF AGW?
-> Learn What This is All About <-